科学双师课
Science CT&FT co-learning

科学双师课
设计理念:"1+1>2"1.双师是一种师生互动性极强的教学方式,符合科学教学注重实践体验的要求,有利于实现教学目标。
2.牛津版科学教材可以自然地引入英语语境教学:
大量的中英对照词汇

中英文对照的知识总结

科学实验的设计场景适合英语教学
设计背景:英语口语列入中考英语
教学依据:上海牛津版科学教材
I .Science CT&FT co-teaching
Design concept: "1+1>2"
1. Science CT&FT co-teaching is a highly interactive teaching method between teachers and students, which meets the requirements of scientific teaching focusing on practical experience, and is conducive to achieving teaching goals.
2. Oxford Edition science textbooks can naturally introduce English context teaching:
Extensive Chinese- English vocabulary

Chinese and English knowledge summary.

Design scenarios for scientific experiments suitable for English teaching
Design background: Spoken English is included in the entrance examination for English
Teaching basis: Shanghai Oxford Edition Science Textbook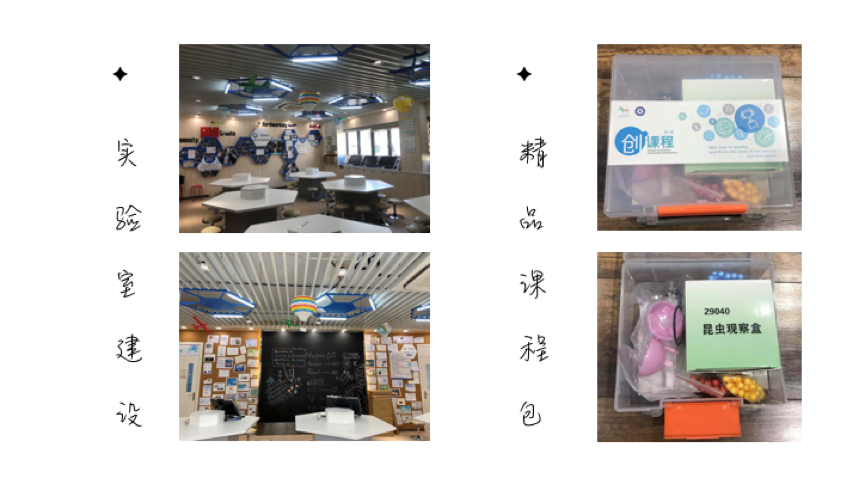 创课程(STEM跨学科)
Interdisciplinary teaching(STEM Interdisciplinary Integration)

创课程(STEM跨学科融合)
设计理念:
为孩子搭建系统而坚实的数学、 物理、化学、生物与自然科学 知识基础。 全课程共计22套,136个课题, 全面满足各学龄段的教学需求。
设计背景:
跨学科融合综合题
教学内容:幼儿园-4套;小学-10套;初中-8套
Ⅱ.Interdisciplinary teaching(STEM Interdisciplinary Integration)
Design concept:
Mathematics, Physics, Chemistry, Biology and Natural Science basic knowledge. The course has a total of 22 sets and 136 topics, which fully meet the teaching needs of all school ages.
Design background:
Interdisciplinary integration
Teaching content:
4 sets for kindergarten; 10 sets for elementary school; 8 sets for junior high school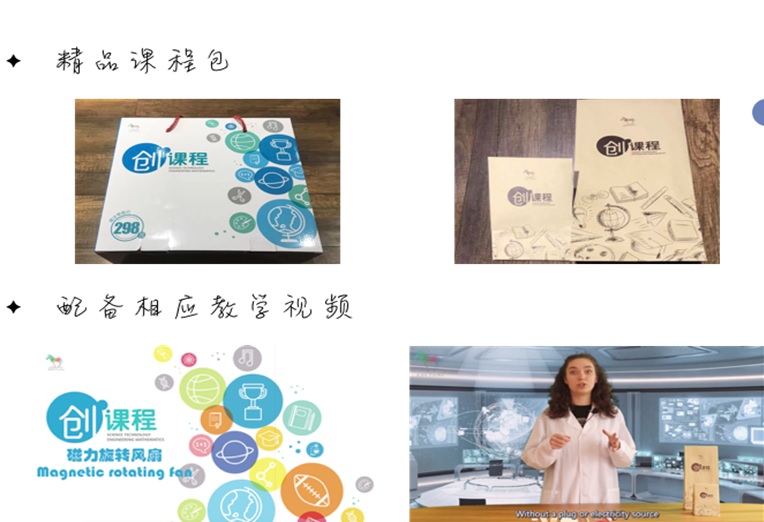 邮轮港国际研学
Cruise Port International Learning

邮轮港系列研学课程分为五大板块共13个课题,分岸上和离岸两部分。11个港口研学课题(岸上)和2个邮轮研学课题(离岸),中英文双语教案,结合国际主流课程和国内教材大纲开发的系统性课程。

The series of cruise port learning courses are divided into 13 topics in five major sections(also could divided into two parts, onshore and offshore). 11 port research projects (onshore) and 2 cruise research projects (offshore), Chinese and English bilingual lesson plans, a systematic curriculum developed by combining international mainstream courses with domestic textbook outlines.

外教精品小班
Delicate Small Calsses with Foreign Tachers

小班化教学
1对1辅导、1对3辅导个性化定制逐个击破难点重点
One-On-One Tutoring, One-On-Three Tutoring custom-tailored to break through the difficult points one by one.
一线外教
权威机构年度最佳培训师认证一线学校任职外教
Frontline foreign teacher
Authoritative organization's best trainer certification of the year
情景化课程
日常/旅游/商务英语只此一套走遍天下雅思/托福口语突击
Contextualization Course
Daily / Travel / Business English to break through IELTS / TOEFL.